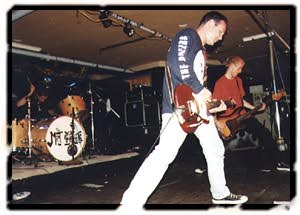 l-r: Jym (drums), Dr. Frank (guitar, vocals), Joel (bass, vocals)
All live photos by Kieran.


There's a Mr. T Experience sticker that says simply "MTX: Songs about girls." That's a short and pretty accurate description. The Mr. T Experience have been churning out great, honest pop-punk songs about girls (okay, so not ALL of them are about girls...) for over ten years now, but it's only recently that I've really gotten into them. (Don't ask what took me so long.) On a recent tour they played an incredible show at the Middle East Cafe in Cambridge, MA that blew me away with both their live sound and their energy.

Jon & I stuck around to talk to singer/songwriter/guitarist Dr. Frank (a real nice guy, I must add). To avoid a stupid interview asking the usual lame questions, I let Jon -- the longtime hardcore MTX fan that he is -- take control. The result was an interview that fans should enjoy. But to keep everyone else from being alienated, I've included the lyrics to songs discussed here (just follow the links). And now...